Last weekend, I was on a road trip to the Monterey Bay area! While traveling down Hwy 1 towards the bay, we could see the large artichokes just waiting to be harvested in the fertile fields of Castroville, which is known as "The Artichoke Center of the World". In fact, they looked soooooooooo good that I had to stop at my favorite artichoke stand on the way home to pick some up. Springtime and artichokes just go together! Not only are they good to eat, have a good antioxident value, but they also make fab Eco-Chic tablescapes.
tastytouring.com
Artichoke fields of Castroville!!!
hipsterhostess.blogspot.com
Artichoke Table Inspiration!
epicurious.com
This Spring centerpiece made with two square glass containers, aspargus spears, artichokes and flowers!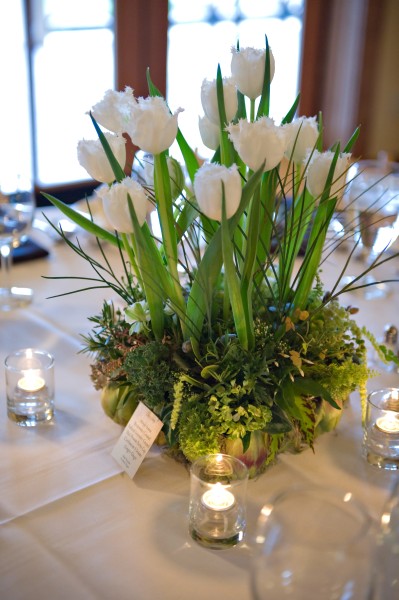 francoiseweeks.com
Love, love, love this centerpiece!!!
purpletrail.com
This veggie centerpiece uses artichokes as candles!
blog.couleurnature.com
Love this modern look!
bhg.com
Artichokes, lemons, and eucalyptus leaves were used in this simple design!
abhomeinteriors.com
Hollow out artichokes and use as flower vases!
funchkins.com
Use artichokes are candle holders!
pinterest.com
Artichokes as placecard holders!!!
And finally lets eat.......................
Sicilian Artichoke on Recipe.com
Fettuccine with Baby Artichokes and Shrimp on Recipe.com
prouditaliancook.blogspot.com
While looking for a grilled artichoke recipe, I ran across this one from Marie at Proud Italian Cook. For all of you out there who love artichokes this looks really yummy.......... Marie trims and quarters her artichokes and slowly boils them until tender. She lets them cool completely down, then she pulls out the choke and prickly leaves. Place the quartered artichokes in a bowl, drizzle olive oil all over, place grated romano cheese between the leaves along with salt, pepper, finely chopped garlic and fresh parsley. Place them on a hot grill turning them over until the cheese gets crusty and garlic cooks, it just takes a few minutes.
I am off to the grill with my artichokes to try this recipe!!!
Until next Tuesday..............................
Elementally,
Linda and Michele